Alex Graham - Our Front Porch
The Western Illinois Museum, in partnership with the Western Illinois University School of Music, is pleased to announce a new series of live music. The performances in the series will take place once a month and will be held on the Museum's Our Front Porch, an indoor area where, just like with any porch, guests are invited to relax and gather together. The program will be from 4:30 to 7:30 pm and will include a cash bar. There is a $5 suggested donation at the door.

The series was designed by WIU Music Professor, Whitney Ashe, to connect WIU music majors with professional musicians. This program series, funded by the Performing Arts Society includes an opportunity for the visiting musicians to give a performance for the Macomb Community. In 2022, the series welcomes Tito Carillo on October 14th and Alex Graham on November 11th. The series continues in 2023 on March 10th with Chris Madsen and on April 14 with Wayne Coniglio. These world-class musicians will perform with the HAT Trio, a group made up of WIU jazz faculty members Matt Hughes on bass, George Turner on guitar, and Whitney Ashe on piano. Check the Museum's website for additional performances and changes to the schedule.

This project is supported by a grant from the Illinois Arts Council Agency, and the National Endowment for the Arts.

The Western Illinois Museum is located at 201 S. Lafayette Street, one block south of Macomb's Courthouse Square. For more information, call the Museum at 309.837.2750, text 309.837.2613, or email at info@wimuseum.org. More details can be found on our website and social media channels.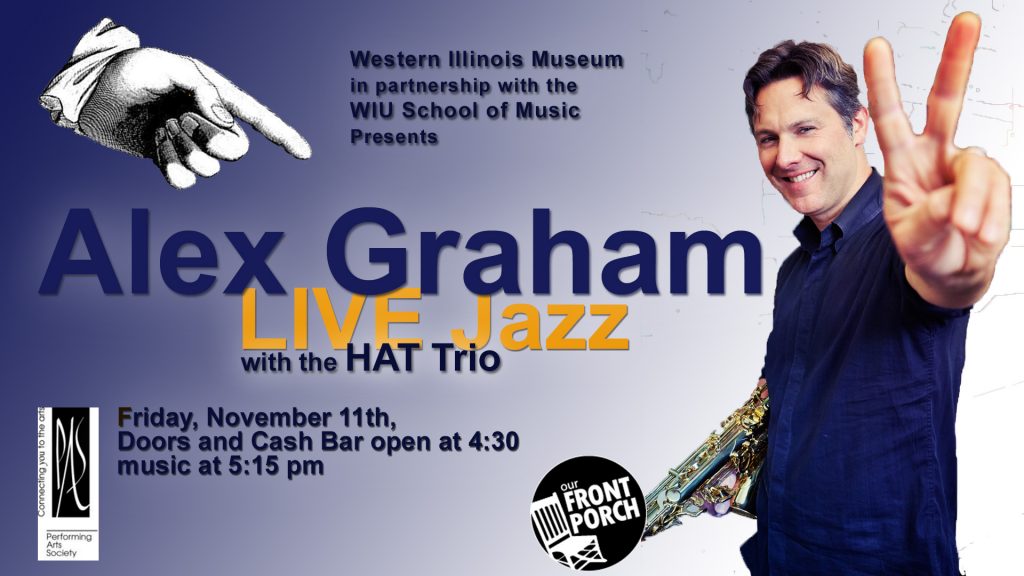 Date and Time
Friday Nov 11, 2022